Tony Gilham

'

Nationality

British

Born

(age 19)

current series

British Touring Car Championship

Current team

Team Hard

Starts

3

Points

6

Podiums

0

Wins

0

Poles

0

Highest Championship Position

25th
Howard Fuller is BTTC driver for Team Hard.
Early CareerEdit
Fuller started in karts and progressed to the BRSCC's T-Cars youth motorsport championship.Howard Switched to single-seaters with Formula Palmer Audi in 2009.He won on his Volkswagen Racing Cup debut at Rockingham in 2010. Then he drove for BARC Formula Renault 2011. In 2012 he drove a Golf GTI Mk V for the Team Hard scholarship team. In the Current VW season is 21st in the championship with 112 points.
British Touring Car ChampionshipEdit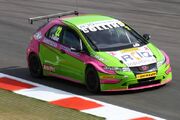 He made is debut in 2012 at Rockingham for Team Hard, replacing Rob Holland who was unavailable . In the first race he finished 14th and then bettered that with a 12th in the second. He finished 16th in a wet third race after going off the race track. He is currently 25th in the standings. Fuller was able to race again for Team Hard at Silverstone qualifing 15th.
Complete British Touring Car Championship resultsEdit
(key) (Races in bold indicate pole position – 1 point awarded just in first race) (Races in italics indicate fastest lap – 1 point awarded all races) (* signifies that driver lead race for at least one lap – 1 point given all races)
| Year | Team | Car | 1 | 2 | 3 | 4 | 5 | 6 | 7 | 8 | 9 | 10 | 11 | 12 | 13 | 14 | 15 | 16 | 17 | 18 | 19 | 20 | 21 | 22 | 23 | 24 | 25 | 26 | 27 | 28 | 29 | 30 | Pos | Pts |
| --- | --- | --- | --- | --- | --- | --- | --- | --- | --- | --- | --- | --- | --- | --- | --- | --- | --- | --- | --- | --- | --- | --- | --- | --- | --- | --- | --- | --- | --- | --- | --- | --- | --- | --- |
| 2012 | Team Hard | Honda Civic | | | | | | | | | | | | | | | | | | | | | | 14 | 12 | 16 | | | | | | | 25 | 6 |
* Season in progress